Trestle Stands
"Heavy Duty Sawhorse"
Ideal for any industrial or construction applications. Our trestle stands are available for supporting dies, moulds and many other materials. In addition to our standard models we engineer and manufacture custom designed stands to meet your specific needs.
Our Trestle stands are designed for heavy loads in industrial and construction applications. All welded construction and no bolts that can loosen. They are made under strict quality control standards including ISO 9001/9002, CWB Standards & AWS Qualifications.
Standard load capacities 1 to 50 Ton (.91 to 45 tonne)
Unique sturdy design and construction.
Multiple uses including supporting dies, machinery, steel, Pipe, Wood, etc.
Protective top covering available for precision equipment.
Tapped holes (1/2-13 UNC) or 1/2 clearance holes in top surface for lifting, or hold-down of supported material.
Holes in side plates for tie-down.
Standard finish galvanized for long life and corrosion protection.
Easily moved by forklift, crane or our hand truck wheel accessory.
Custom designs available to suit your needs.
Minimum of two units required for safe support.
Design tested to a safety factor of more than 4.
Design Tested under calibrated hydraulic press loading.
Quality Manufactured & Made In North America.
One ton model uses hollow structural section top with 1/2 inch through holes.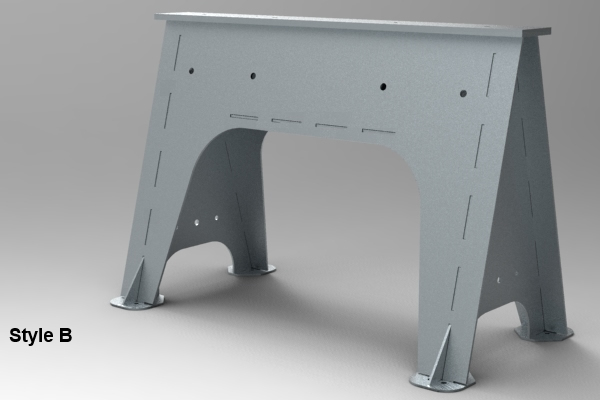 Trestle Specifications